August 6, 2018
Turf and a Trampoline
As business professionals, we know what to expect from our busy work schedules. The stresses of deadlines and unforeseen challenges become part of our everyday lives. From time to time, however, if we pay enough attention, we're able to look up at just the right moment to find meaning beyond our corporate walls. Not too long ago, we looked up and met Gianni.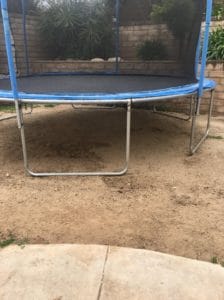 Diagnosed with Hodgkin's Lymphoma at the age of 13, young Gianni is all too aware of life's unforeseen stresses. Frankly, tackling a disease like Hodgkin's Lymphoma requires more than most of us can ever imagine, and although there's a favorable five-year survival rate of 90%, the fear of cancer is very palpable and quite unfair for Gianni to have to worry about.  
However, with the support of his family, Gianni tackles every day like a true champ, and when Gianni and his mom Gina, met Heather Donati who is the Co-Founder and Executive Director of the BumbleBee Foundation, a Thousand Oaks-based non-profit that supports pediatric cancer families in memory of her son, Jarren, Heather knew she wanted to help, somehow.
"The truth is, when a cancer diagnosis hits a family, survival mode doesn't always allow the luxury of time, or financial resources, to plan for anything other than what is absolutely necessary. When I saw the family's backyard though, I had an idea," Heather reveals.
Gianni and his siblings had a trampoline on a dirt patch in their backyard, not at all inviting for the kids to play on. That's when Heather made a call to Dave Kratt at Brightview Landscape, who put her in touch with Charles Colletti at EasyTurf. Upon hearing about the family's needs, Charles orchestrated the artificial turf donation and dispatched a crew, who volunteered their time, to install a brand new yard for Gianni and his family to enjoy.
"We all get busy with our own lives," said Charles when we asked him about this project. "It was nice for us all to stop and focus on someone else's, to make it just a little better, to make a difference, no matter how small. We were grateful for the opportunity to meet Gianni and Gina, and to remove one thing from Gina's lists of worries for her son. It was a pleasure to provide Gianni with a clean, fun area for his trampoline."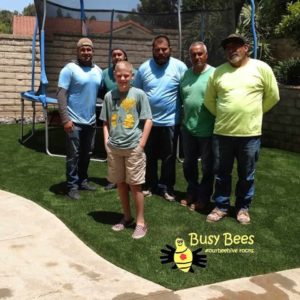 Here at EasyTurf, we've been told Gianni's family is overwhelmed with gratitude for the generosity of strangers who gave their family an incredible gift, but we believe when life presents opportunities to look up, that's when we do our best work, and that's when we, in turn, become grateful. We're grateful for Gianni and his family, we're grateful to be part of a team that works together, and we're grateful to join Gianni's growing support team.
Alex, the head of the install crew, may have summed it up the best when he told Gina: "It was an honor to do this job… and I thank you. I will have Gianni in my prayers every night."
From all of us at EasyTurf, we wish Gianni a full and speedy recovery – and many playful years on the trampoline in his new backyard!