Artificial Turf in Wet Regions
December 8, 2017
Artificial Turf in Wet Regions
With the descent of winter quickly upon us, wet weather is also headed our way. Inclement weather can ruin time spent outside in wet regions. Puddles of rainwater and snow can wreak havoc on an expensive grass lawn. Snow and rain can matte down yards, create bald spots and muddy patches, and oversaturate parts of the lawn. In addition to creating a dirty lawn, wet weather also leads to mud spreading around otherwise clean indoor surfaces.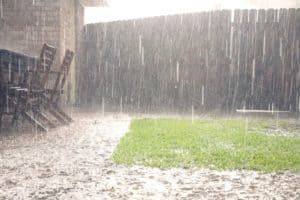 And once the wet weather has passed, there is a still a period of waiting around for water to drain and dry. Real grass will take time to slowly drain, centimeter by centimeter. Artificial grass is the solution to this problem. EasyTurf products have superior drainage capabilities that quickly whisk water away. In places where there are seasons of snow and rain, artificial grass can limit downtime spent waiting for the wet weather to pass.

In addition to limiting downtime, it can be expensive to reseed and bring life back into a damaged lawn. Bald patches and flooded zones are expensive issues to solve. Artificial grass, on the other hand, will look and feel great all year round, regardless of the weather season. EasyTurf artificial grass makes it easy to play and run around on the yard year round.