Backyard Design: Featuring Bocce Ball
December 8, 2017
Bocce Ball Courts
Artificial grass bocce ball courts are becoming increasingly popular across the country and it's easy to see why. A bocce ball court creates the ultimate backyard experience that is perfect for the whole family. Whether you are looking to improve your bocce ball game, spend quality time with family, or play around with friends, an artificial grass bocce ball court is the perfect solution. The artificial grass has a realistic, lifelike appearance that looks great and is fun to play on.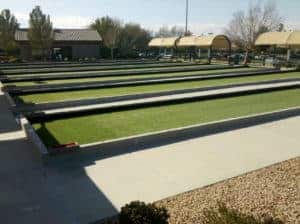 Artificial grass bocce ball courts offer fun, outdoor play for family and friends of all ages. The most important feature of a high quality bocce ball court is consistent ball roll, which is easily created using EasyTurf's artificial grass products.
Crushed oyster shell may be the more traditional playing surface, but there are some limiting features that make oyster shell an inconvenient hassle. First, oyster shell must be regroomed between each game. When playing bocce ball with friends and holding a drink in hand, no one wants to put the game on pause to walk the entire course to regroom.
An additional complaint of oyster shell is that it does not hold up well in all weather conditions. During periods of rain or inclement weather, oyster shell can spill out of the court and make a mess around the yard. Resolve this problem by using the proven solution of artificial grass. Artificial grass is easy, hassle-free, and weather resistant. There is no regrooming in between games, so people can play game after game without interruption. Plus, artificial grass looks beautiful and green, which easily compliments the entire look of the backyard.