Backyard Design: Featuring Pavers
December 8, 2017
Spotlight: Artificial Grass & Pavers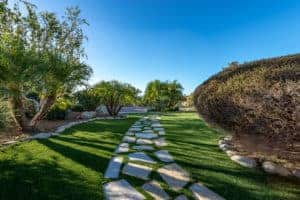 Incorporating pavers into your backyard design plan offer a customizable solution to outdoor living that look and feel great. Pavers feel smooth underfoot as you walk around outside, unlike crushed granite or recycled rock. The look is also completely customizable, with different colors, cuts, and sizes. Being able to design a yard with pavers can completely revolutionize a dull space into a full backyard paradise. The options are endless. And better yet, pavers are low maintenance since they don't need regular replacing or washing.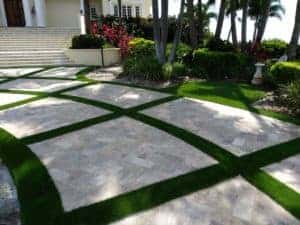 Pavers pair perfectly with EasyTurf artificial grass. This combination of materials adds color and dimension to the backyard space. Moreover, the hard stone and soft grass creates a powerful dichotomy of texture with a sophisticated feel. People spending time in the backyard can follow the natural pathways created by pavers as they explore backyard areas. These pathways connect different backyard spaces and blend the backyard together seamlessly. Pavers can add design elements that pair well with a patio, fire pit, pool, deck, or other backyard spaces. Plus, natural grass in those small lines can be a challenge to maintain, so turf is a natural solution to this problem. Not to mention there is need to worry about rogue weeds and messy soil staining or dirtying stones so the pavers remain in nice condition.

Any questions about how to design an artificial grass backyard? EasyTurf artificial grass offers a free design consultation for all customers. Feel free to contact us and we'll be happy to talk you through different design ideas!