Children's Backyard Paradise in Southern CA
June 28, 2018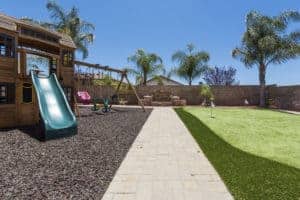 Check out this backyard paradise in Southern CA! These homeowners approached EasyTurf with a challenge: they wanted a fun, kid-friendly yard that would entertain their children. Part of the joy of being a parent is getting to see your child laugh and play in the backyard. With that said, the Southern CA EasyTurf team went to work designing the ultimate backyard paradise. The team created a putting green with a few small undulations and three putting green holes. Now that the putting green is completed, the family and their kids immediately run outside after school to play on their new putting green.
The kids also love inviting friends over to their house after school!
Putting greens are an increasingly common choice by homeowners for their children. It's a great way to encourage outdoor playtime for children, especially in this era of technology and television. In addition, playing golf on the putting green will teach children from a young age about teamwork, patience, and practice. EasyTurf can create the perfect putting green for you and your family. Our certified putting green specialists have extensive experience working with homeowners. Contact us to learn about how EasyTurf can provide you with the putting green of your dreams!
EasyTurf.com / 866-352-0233