Creating A Kid's Backyard Paradise
December 8, 2017
Getting kids to play outside can be a challenge nowadays. In this age of technology, kids are ever increasingly addicted to television, iphones, and video games. They wake up and watch cartoons, walk to school glancing down at their phones, type on computer screens, and play xbox when they get home from school.
Rather than combat these new technologies, its much more effective for parents to make their outdoor backyards more appealing. Creating a fun play space can encourage the kids to spend more time outdoors and utilize their active imaginations. Use this list for some new ideas to spice up backyard activities.
---
Putting Green: Install an EasyTurf putting green. Watch as kids play mini putt for hours on the putting green. EasyTurf can create a putting green with varying speed zones that generate customizable levels of difficulty.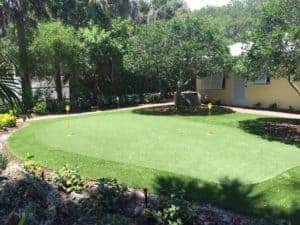 Outdoor Chalkboard Wall: Paint a section of fence or side wall with outdoor chalkboard paint. The outdoor chalkboard encourages creativity and imagination as kids are offered the opportunity to draw and play with chalk.
Planter Box: Establish various types of plants in a small planter box to use as a fun lesson in gardening. The kids can watch in amazement as the plants grow in size. Bonus: plant an easy vegetable like tomatoes or lettuce so kids can eat the vegetables after tending to them.
Jungle Gym: Add a backyard playground set to give your kids hours of entertainment. There are many different variations of playgrounds with slides and tunnels that would go great in any sized backyard space. Adding artificial turf under and around the jungle gym both looks & feels great as well!