Dealer Spotlight: Alpha Turf NW Hobbit Hole Installation
March 21, 2018
This week's Dealer Highlight project was completed in Graham, Oregon, by our authorized dealer, Alpha Turf NW. This was an extremely unique installation with the homeowner requesting an underground hobbit hole play structure. As you can see from the photos, this backyard was fully designed with children in mind and every detail created to maximize outdoors fun.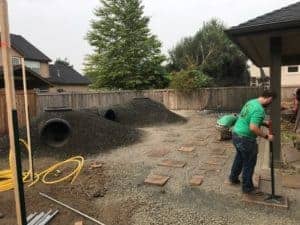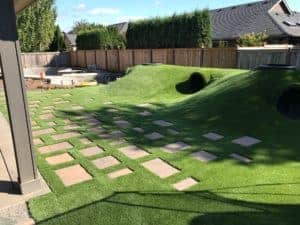 The underground hobbit hole structure has an entrance near the front of the yard. Once inside the structure, the children can follow a zigzag pathway leading down different underground tunnels. One tunnel reveals a small window at the top for the children to peer through. Another tunnel leads back out to the yard. Now that the project has been completed, this structure has become the perfect little hideaway for the kids to play, laugh, and hangout. Plus, with the artificial grass overtop the structure, the children are able to climb atop the structure and continue playing games.
We love this idea. Such a cool alternative to the typical playground structure for kids. What do you think? Let us know!
Check out more projects by Alpha Turf NW here: www.alphaturfnw.com. Alpha Turf NW the leader in artificial grass installation in Oregon and Washington.
Give them a call at (541) 719-8584.