Dog-Friendly Landscaping
December 8, 2017
Create a safe, fun backyard atmosphere that you and your pets will enjoy
Dog Friendly Plants
Finding nice landscaping plants that blend while with your backyard is already challenge, without even taking pet friendly plants into consideration. Lucky for you, there are plenty of backyard plants that can add color and life to your garden while still keeping pets safe from toxic plants.
Do plant: Pampas Grass, Creeping Rosemary, Texas Sage, Bamboo Palm, African Daisy
Don't plant: Rhododendron, Alocasia, Larkspur, Amaryllis
If you have a specific plant in mind and want to check if it is pet friendly, check out ASPCA's Poisonous Plant list online.
Dog friendly artificial grass
EasyTurf artificial grass is the perfect play surface for dogs. Evolved technology allows the artificial grass to be soft against paws and plush enough to roll around in for hours. Plus, you will love how simple it is to easily pick up and wash away pet droppings due to EasyTurf's patented drainage system. Pet friendly and pet owner friendly; what's not to love about that?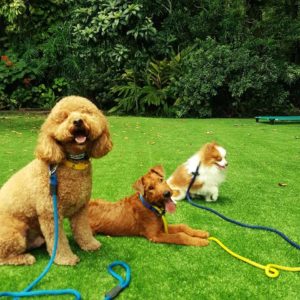 Dog house
A cool dog house is an essential piece of a dog friendly backyard. They protect against inclement weather, while also providing a safe, relaxing space for your pet to relax. They are customizable depending on dog size and come in different, fun styles. Shop for different types here.
Dog Run
Even if you don't own a large backyard, you are still able to create a nice outdoor space for your dog with a dog run. Dog runs come in many different shapes and sizes, but all accomplish the same goal of providing a private, enclosed space for your dog. Using EasyTurf artificial grass as the base for the dog run is another great idea!