Feature Install: Hick's Landscaping
December 8, 2017
Check out this install from Hick's Landscaping!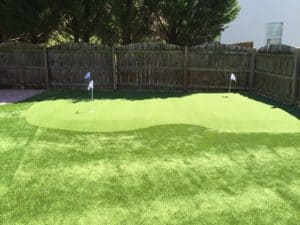 This week we'd like to feature a great install completed by one of EasyTurf's Authorized Dealers, Hicks Landscaping.
The homeowner requested a durable kid and pet-friendly play space with a realistic putting green. Hicks Landscaping, based in Wendell, NC was able to provide this and more with EasyTurf's Ultimate Natural and Tru-Roll Putting Green. Hicks went above and beyond to create personalized putting green flags with the letter "H" to represent the first initial of the homeowners name. These type of personal touches define the playful space as an area the homeowners are proud to show off to family, friends, and neighbors alike. And as you can see from the photos, the backyard has made a beautiful transformation into a low-maintenance, family friendly activity area. Apparently the homeowner's dog can't get enough of the new EasyTurf lawn either! We know the homeowner will enjoy their new EasyTurf lawn and putting green for years and years to come.
Check out more from Hick's Landscaping here: www.hickslandscape.com.
Give them a call at 919-366-0115