Featured Installation: Ferg's Sports Bar and Grill
May 4, 2018
This week we are featuring an install at Ferg's Sports Bar in downtown St. Petersburg, FL. This local bar is a popular spot for sports fans and community members. Customers especially love to visit during Tampa Bay Ray's baseball games, who play across the street at Tropicana Field during the Major League Baseball season. Ferg's recently installed their new dog park space with EasyTurf artificial grass to provide patrons and their puppies with a fun spot to play and eat. They even developed a dog-friendly menu- we've heard great things about the Hushpuppie Cookies!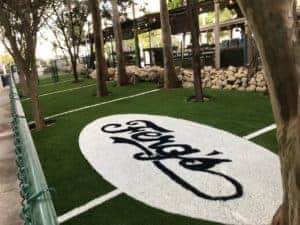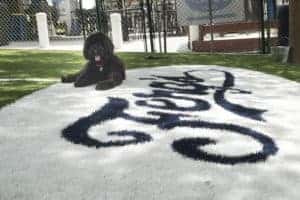 EasyTurf artificial grass is a popular choice among commercial spaces due to its ease of maintenance. Real grass requires watering, mowing, fertilizing, weeding, and more, all the while still susceptible to yellow patches and muddy holes. EasyTurf artificial grass, on the other hand, solves for these inevitable real grass issues. Artificial grass completely eliminates daily maintenance and will always look picture perfect for visiting customers. Furthermore, EasyTurf is an especially great fit for the dog park area at Ferg's Sports Bar due to EasyTurf's state of the art drainage technology. This makes pet waste cleanup easy and painless. EasyTurf's artificial grass is also strong enough to withstand puppy playtime without the blades bending or laying down. We know Ferg's Sports Bar will continue to enjoy this EasyTurf dog space for years to come!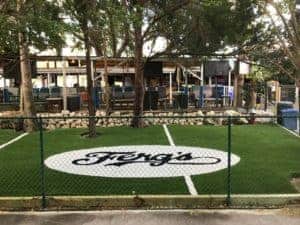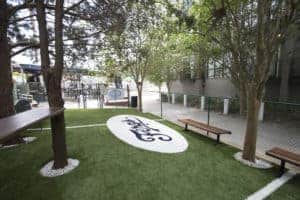 Read more about the Ferg's Sports Bar story here, www.fergssportsbar.com.
If you are in St. Pete, stop by and check them out at 1320 Central Avenue, St Petersburg, FL 33705 / (727) 822-4562
What do you think about this installation? Let us know! We love hearing your feedback.
www.Justlikegrass.com  /  (866) 327-9887