Featured Installation: Manatee County Animal Services in Palmetto, Florida
June 12, 2018
Featured Installation: Manatee County Animal Services in Palmetto, Florida
EasyTurf Florida recently completed an installation in February 2018 at Manatee County Animal Services in Palmetto, Florida. We installed 3,500+ square feet of pet-friendly EasyTurf Pedigree artificial grass.
Prior to the installation, the animal center recreation area was covered in dirt and rocks. Now the dogs are safe and happy while running around their new artificial grass lawn. They can roll around, play, and run on the artificial grass for hours at a time. Ember the dog had allergies and couldn't go into the play yards because the dirt would irritate her skin and eyes. Now that they have had EasyTurf installed, Ember is able to run around and play with no problems. The dogs all LOVE their new grass. The new artificial grass is also believed to promote more adoptions since people will be able to better interact with the dogs on the EasyTurf lawn, which is great for everyone!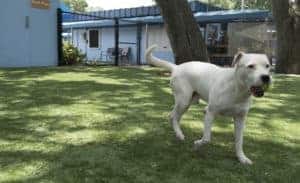 Pedigree artificial grass is an EasyTurf product that was created specifically with pets in mind. In addition to an unrivaled look and feel, the revolutionary drainage capabilities make clean up on the grass hassle-free. Drainage is especially important when considering artificial grass, which is why EasyTurf created a unique Maxxflow backing. Maxxflow's patented technology makes the turf backing drain freely with zero absorption.
In addition, Pedigree has unmatched durability so it will withstand hours and hours of pet playtime. Real grass lawns often have problems with holes and dry patches from pet use but this problem doesn't exist with Pedigree artificial grass. Along with its unparalleled realistic look and feel, Pedigree is the perfect choice pet owners. Over the last decade, Pedigree artificial grass has saved pet owners thousands of dollars and countless hours of backyard maintenance.
For more information, visit www.justlikegrass.com