Five Home Improvement Projects with a Great ROI
December 8, 2017
Long Term Investments Worth Making In Your Home
First things first, home improvement is expensive. Not all home improvement projects will offer the same return on investment. Some projects will empty your bank account and deteriorate in value, while others increase with home value over time.
For the sake of keeping our 401k hidden safely in place, we're going to focus solely on outdoor home improvements.
Outdoor home improvement can be tricky, especially when dealing with higher end projects. Projects involving stone, wood, and other heavy materials can often be expensive after all material and labor costs are factored in. For that reason, it is important to strategically pick which products will work well over the long term.
All in all, its important to have a functional and fun yard space that reflects your interests and doesn't dent your bank account. Lucky for you, we've done the research so you don't have to.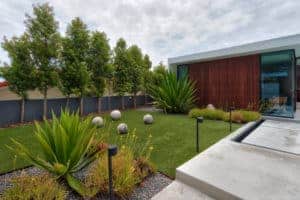 Install EasyTurf artificial grass. This one might be obvious, but installing EasyTurf artifiical grass can save hundreds of dollars on yard maintenance and upkeep every month. With EasyTurf, there is no need to spend money watering, fertilizing, or re-sodding. Once paid off, the yard is essentially money back in your pocket every month.
Outdoor Fencing. When spending time outside, fencing is part of the yard that people notice immediately so it pays to invest here rather than a lesser noticed part of the yard. Plus, the privacy will appeal to home buyers if you plan to sell the home in the future.
Upgraded Front Door. This is another project that can greatly improve curb appeal over the long run. The front door can be one of the first things a potential buyer will notice when walking into your home so it pays to have the door nicely finished.
Energy Efficient Window Replacements. Depending on where you live, the temperature can fluctuate quite a bit. Energy efficient windows can save home owners on year round heating and cooling.
Front Yard Pavers. Pavers minimize upkeep (cleaning is as simple as rinsing off with a hose) and can make a yard appear more high-end and attractive to potential buyers. 
All of these home improvements, small and large, can pay off in the long run. Do your research, find out which projects work best with your home and budget, and have fun.