K&S Sports Constructors at Baylor University
April 3, 2018
This week's Dealer Spotlight highlights a project at the Baylor University Baseball Complex by EasyTurf authorized dealer, K&S Sports Constructors. The Baylor Bears baseball team is part of the Big 12 Conference and play at a highly competitive national level each year. For this reason, Baylor University needed a state-of-the-art baseball bullpen complex to recruit and train its Division 1 athletes. The complete construction of this three-bay bullpen required K&S Sports Constructors to build a new concrete pitching mound and install 3,000 square feet of EasyTurf artificial grass with a 300 square foot Baylor University Bears logo. Fortunately for Baylor, K&S Sports Constructors specializes in sport facilities and was able to build the three-bay baseball bullpen to the exact specifications needed.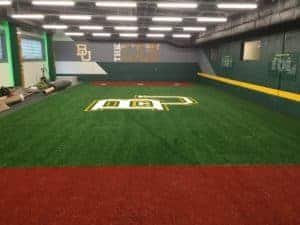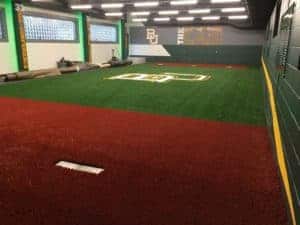 Artificial grass is a huge benefit to athletes competing in sport complexes. EasyTurf artificial grass facilitates an ease of play that mimics the movement of real grass whilst also providing a safe, comfortable play surface. The artificial grass won't create holes and dry patches as easily as real grass which also minimizes injuries to athletes who are running and moving fast along the grass. EasyTurf sport application grass also quickly drains away water from seasons of wet weather, so athletes can get back to the field and compete as soon as the weather allows. All in all, EasyTurf artificial grass is the perfect play surface for athletic sport facilities.
Check out more projects by K&S Sports Constructors here: www.ksscturf.com
K&S Sports Constructors is the leader in artificial grass installation in northern Texas. They service residential homes, commercial zones, and sports complexes. Give them a call at (806) 883-5621.